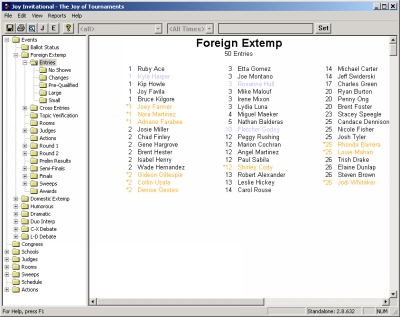 The entries page lists each of the competitors in an event. Each competitor is listed here along with the corresponding school code. Other options for displaying competitor codes are also available.

Color-coding is used throughout the application. On this screen, non-sweeps entries are marked with an asterisk and shown with a yellow-orange tint. Pre-qualified entries are shown with a grayish-blue tint.

If you will notice on the navigation tree to the left, several folders appear beneath the Entries folder that is active. These folders will further divide the entry list. The folder labeled No Shows lists those entries in the event that have been recorded as a no-show in at least one round. The folder labeled Changes lists all of the changes made to the entries (drops, substitutions, adds, etc.). The pre-qualified folder lists only those entries that are pre-qualified (the grayish-blue entries only). The last two folders divide the entries into two divisions: Large and Small. The actual folders that appear are based on settings made within the software.